Remote Simultaneous Interpretation (RSI) connects one or more speakers at a conference or web meeting and the target audience with one or more interpreters working from remote locations. This is possible through a cloud-based platform which integrates speakers' interface, event managers' interface, interpreters' interface and, lastly, a web application used by the target audience.
At the beginning of a conference or web meeting speakers perform an audio and video setup through a specific interface. If speakers cannot attend an event in person, they can still participate remotely by using this interface. Technical support by IT specialists is guaranteed at the location of the event.
The audio and video of the event are streamed to interpreters working remotely from an translation office or even from their home. Interpreters hear and see the event exactly as if they were at the venue through the interpreters' interface, which allows them to communicate with speakers if they need to. At events with several foreign languages, on-site interpreters can work in parallel with remote counterparts.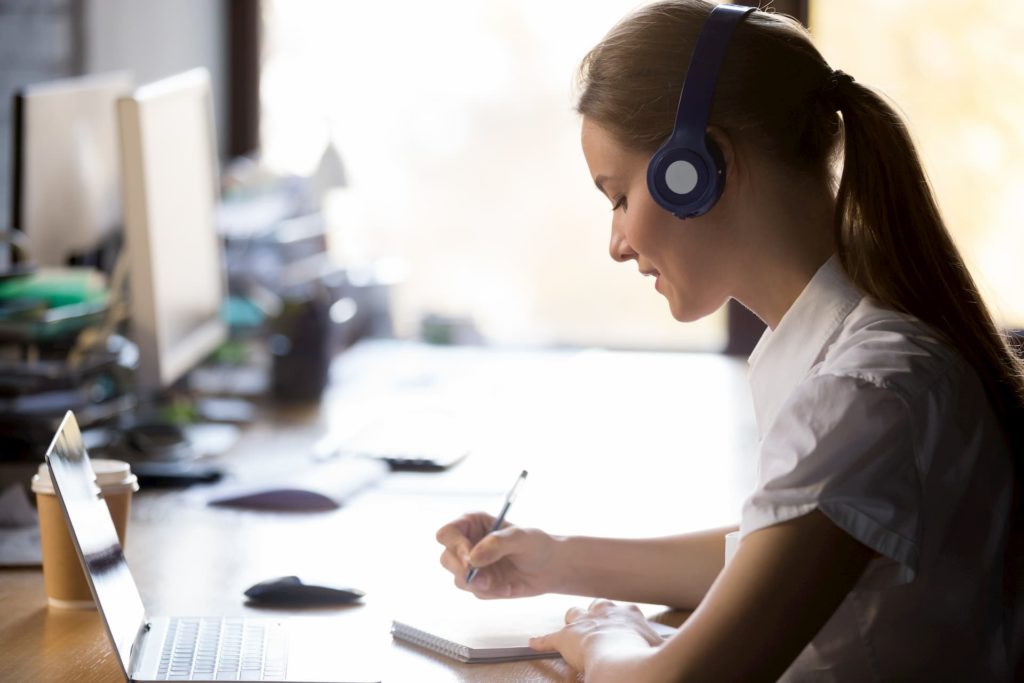 The simultaneous interpretation is streamed in real time to the target audience through a web application that can be easily downloaded and installed on an electronic device (smartphones, tablets or laptops). If a participant cannot attend an event in person, he or she can still participate remotely by using the web application. If needed, instead of personal electronic devices traditional headsets may be used.
Throughout the conference or web meeting we offer professional event management. One of our expert project managers is in charge of monitoring interpretation service high quality via the event management interface and of helping you solve any issue that might arise.
When offering remote simultaneous interpretation services, we adopt the best practices for network security:
all communication streams are encrypted;
the platform software is installed on dedicated servers;
separate cloud-based sessions are created for each event;
no voice data is recorded or stored, unless otherwise required by the client;
confidentiality is assured, indeed NDAs are signed by all of our interpreters and staff members.
Remote simultaneous interpretation may be used at a variety of events, for instance conferences and web meetings. Event management results being much simpler thanks to the use of RSI, indeed interpreters can work from a location of their choice, so there is no need for them to reach the location of the event. Moreover, it is also possible that speakers and/or participants attend the event remotely by taking advantage of new possibilities offered by technology.
To sum up, remote simultaneous interpretation is quickly becoming the new normal and transforming the world of interpreting, as Skype and WhatsApp did for day-to-day communication. Classical conferences will still be organized but not as much as in the past. Not only because of the technological development but also because of security concerns and cost and time saving reasons.
We are proud to be a stable company with a solid reputation and a partner for major companies in the Middle East and worldwide.
The Language Professionals provided the International Foundation for Electoral Systems – Afghanistan Project with all services and equipment in an expedited fashion.
Anya Kozlova
Senior Program Officier
Matteo and his team at Langpros live up to their brand name – they are experts in any language and extremely professional in their approach.
Sajith Ansar
Ceo
We would not hesitate to recommend Langpros to any other national and international organizations and Government bodies requiring translation and interpreting services.
Dr Giampaolo Bruno
Director
Matteo and Langpros have given us amazing service. They translated two fairy tales that were used in our Virtual Reality activation in Kidzania, running for the full month of March.
Nadya Koleva
Project Manager
I would like to express my appreciation to you & your Team for providing us with translations to our Manuals in many different languages and allowing us to grow in new market.
Towfigh Tamimi
CEO
We really appreciate your hard word & dedication for providing excellent services & maintaining high standards. The results of your services made us really glad.
Faisal Khan
Assistant Vice President