With Remote Simultaneous Interpretation, interpreters are not present at an event venue. They work remotely, either from their office or their home, through a cloud-based platform. Remote Simultaneous Interpretation is becoming increasingly popular, because it combines high quality with considerable savings.
A web interface allows interpreters to see and hear the event exactly as if they were in the room. At the same time, it streams their interpretation in real-time to the target audience on their mobile devices.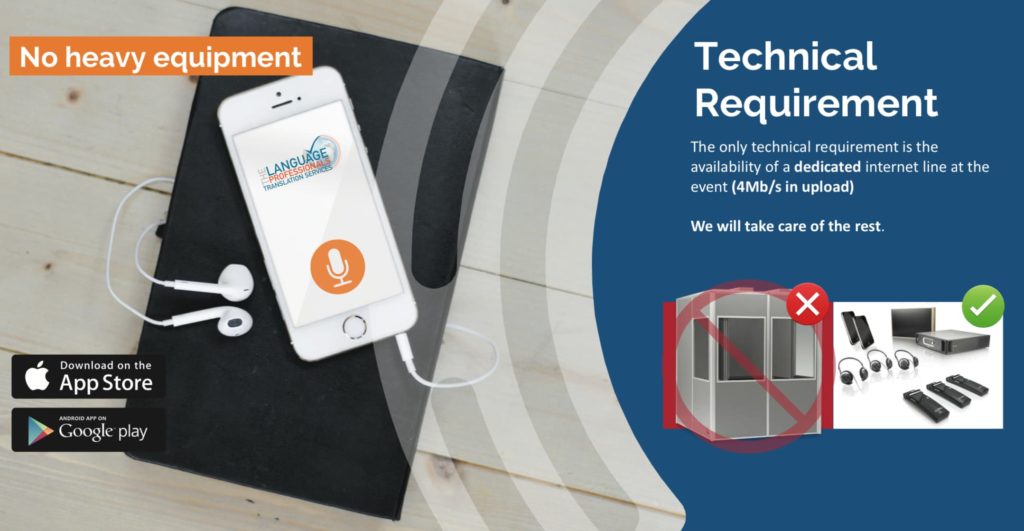 How does Remote Simultaneous Interpreting work?
Remote Simultaneous Interpretation (RSI) connects the speakers, audience and interpreters via a cloud-based platform that integrates:
The speakers' interface

The event managers' interface

The interpreters' interface

The web application used by the target audience
Before the event, our specialized technicians perform the audio and video set up at the venue.
Our language specialists, who are trained in the use of the platform, work from their office or their home. They receive the event audio and video in real time, through a dedicated interface. They can hear and see exactly as if they were at the event, and they can communicate with the speakers, as needed.
The interpretation is streamed to the attendees' devices with high quality sound and video – if needed, dedicated headsets can be used.
Our project manager monitors the interpretation quality via the event management interface. We offer 24/7 technical support during the event.
Often, the event can benefit from different sorts of hybrid interpreting solutions. For example, at events with several foreign languages, on-site interpreters can work in parallel with remote counterparts. If a participant cannot attend an event in person, he or she can still attend remotely via the web application. 
The platform integrates with common videoconferencing technology: Zoom, Microsoft Teams, Skype, and many more.
Information Security in Remote Simultaneous Interpreting
When offering remote simultaneous interpretation services, we adopt the best practices for network security:
 all communication streams are encrypted;

 the platform software is installed on dedicated servers;

 separate cloud-based sessions are created for each event;

 no voice data is recorded or stored, unless otherwise required by the client;

 confidentiality is assured, indeed NDAs are signed by all of our interpreters and staff members.