Remote Simultaneous Interpretation (RSI) is the latest interpreting technology, which is revolutionizing the world of interpreting. It is to be considered the best solution for simultaneous interpretation at conferences and web meeting in which several foreign languages are spoken. Powered by a cloud-based platform, RSI manages to combine high quality with considerable time and money savings when compared to traditional simultaneous interpretation.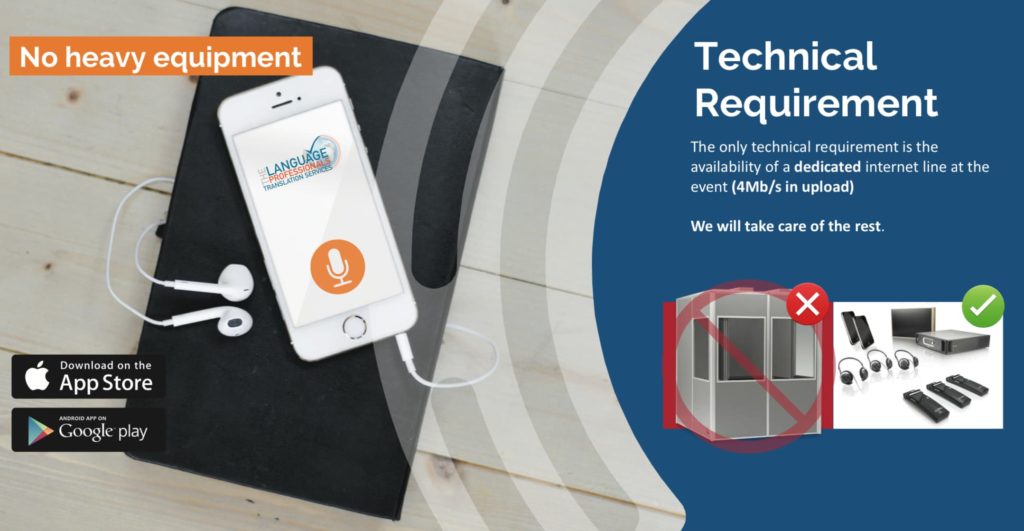 The main difference with traditional simultaneous interpretation is that interpreters are not present at an event venue but they work from a different location (a translation office, or even their own home). This is possible through an interface that allows them to see and hear the event exactly as if they were in the room and, at the same time, streams their interpretation in real-time to the target audience. Attendants can listen to the interpretation through a web application that can be easily downloaded on an electronic device of their choice (either a laptop or a tablet or a smartphone).
For instance, a conference in the United Arab Emirates may be translated by one or more interpreters working from Europe or anywhere else. They will receive audio and video feed through a cloud-based platform and send back their interpreting to the target audience through the Internet in real-time, exactly as if they were at the venue. Participants will only have to download an app on an electronic device of their choice and select the language they want to listen the speech into.
People may think that simultaneous interpretation should be on-site, but this is no longer the case. So long as interpreters have the necessary training and the right interpretation equipment, they can work from anywhere. Instead of traveling to the venue of an event, they can focus on their work, delivering high-quality interpretation services.
Remote simultaneous interpretation offers many advantages. First of all, costs will be lower than traditional on-site simultaneous interpretation since it will be possible to save on interpreters' travel and accommodation expenses. Secondly, it will be possible to work with the best interpreters worldwide without any geographical constraint, thereby maximizing interpreting high quality. Lastly, with remote simultaneous interpretation, there will be virtually no limit to language availability. Finding interpreters for rare languages will no longer be a challenge for conference organizers since they will be able to choose from a large international network of professionals.
RSI is available anywhere and anytime. It is ideal for events of any size and duration, including traditional conferences, small business meetings, lectures, workshops, discussion panels, webinars, and focus groups.
To sum up, technology has paved the way for many opportunities for companies and organizations to establish business networks with counterparts who speak foreign languages and belong to different cultures. Its ability to cut costs and improve the user experience is plain to all. Take a look at what our technology can do for you.
Are you organizing a multilingual online event, business call, or webinar?
Our remote interpreting solutions break language barriers in compliance with social distancing measures, integrating with all major videoconferencing platforms such as Zoom, Microsoft Teams, Skype, and many more!
Contact us at [email protected], you will be able to discuss a solution tailored to your needs with our experts, and you will get a free demo!